Elmwood Golf Lessons & Coaching
Patrick Walker – PGA Professional.
Patrick is regarded as world-class coach having spent numerous years based at St Andrews Links, The Home of Golf. His friendly and enthusiastic nature helps all of his students feel immediately at ease and ensures they progress as much as possible. With several professional wins on the Tartan tour, Patrick continues to compete internationally, further elevating his understanding of how to help his students get the most from their games. His students have varied from Tour Professionals to beginners discovering the great game of golf for the first time! By regularly attending education courses and conferences, he remains up-to-date with new coaching principles and brings the latest in coaching philosophies to his lessons.
Patrick's Coaching Philosophy: "I do not believe in one way to swing a club, rather in an unlimited number of swing styles. But I do believe there is one efficient way for every player to swing – based on what each individual can physically do. The most efficient swing is not the same for each person, because efficiency is unique to a person's body. My primary goal in any lesson is to bring greater enjoyment to every student, while helping them to find the swing that is most efficient for them."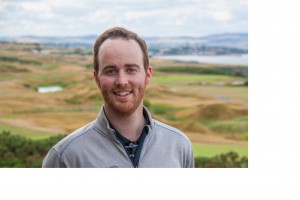 1 hour • £40 per 5 week block
Elmwood Eagles is our junior coaching club which runs on Monday evenings 6pm – 7pm throughout the year. A perfect mix of fun games and coaching which utilises US Kids Golf levels 1,2 & 3 to help youn
g golfers progress from total beginners to budding champs!